NGAUS (National) Conference
AMERICA'S TRUSTED SWORD AND SHIELD.
NGATN Members are cordially invited to attend the 141st General NGAUS Conference 30 August – 2 September 2019 in Denver, CO!  Scroll down to learn more about the Conference, download Registration Forms, plan for future conferences, and browse photos from last year's conference.

2019 Conference Registration Form

Officer Professional Development Application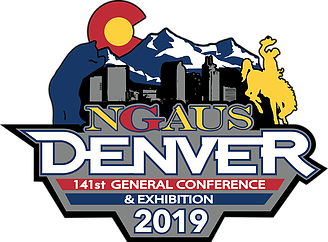 Conference Highlights
Friday, 30 August 2019
     Registration
     NGAUS Golf Tournament
     "Fourteener" Climb
     Motorcycle Rally (Rentals Available)
     Joint Resolutions Committee
     Tennessee Caucus Meeting – 5pm, location TBD
     Company Grade/Warrant Officer Mixer (Mile High Stadium)

Saturday, 31 August 2019
     Fun Run
     Officer Professional Development (OPD) – 1st Session
     Army/Air Resolutions Committee
     Area III Caucus
     Exhibit Hall Ribbon Cutting
     Opening Ceremony/Roll Call of States
     First Business Session
     Governors Reception (Wings Over the Rockies Air & Space Museum)
Sunday, 1 September 2019
     Second Business Session
     Spouse Luncheon
     Retired/Separated Caucus/Lunch
     OPD – 2nd Session
     Task Force Meetings
     Hospitality Night
Monday, 2 September 2019
     Air/Army Separate Sessions
     Third Business Session
     OPD – 3rd Session
     States Dinner (Denim & Diamonds)
Why Should I Go?
The National Conference is held annually in a different city that offers great services and amenities for Guard Members and their families. During the Conference, National Military and Political Figures speak to the current state of the Guard, address issues facing the Force, and call for Member action to create better informed and involved Guard Members. Professional Development Sessions and Business Meetings provide opportunity for growth as a Guard Leader. NGAUS also sponsors special events like Golf Tournaments, Mixers, and Luncheons to facilitate introductions and reunions with Guard Members and their Spouses from all over the country. During downtime, visit local hangouts and photograph famous landmarks in the city.
141st NGAUS Preview
What To Wear
Plan to Attend Future NGAUS Conference
142nd General Conference
August 28-30, 2020 in Boston, Massachusetts
143rd General Conference
September 9-12, 2021 in Charlotte, North Carolina
144th General Conference
TBD, 2022 in Columbus, Ohio
144th General Conference
TBD, 2023 in Reno, NV