NGAUS (National) Conference
AMERICA'S TRUSTED SWORD AND SHIELD. NGATN Members are cordially invited to attend the 140th General NGAUS Conference 24-27 August 2018. Scroll down to learn more about the Conference, download Registration Forms, plan for future conferences, and browse photos from last year's conference.
Registration is OPEN THRU 20 July 2018
DOWNLOAD THE 140th Call to Conference and Room Deposit Form HERE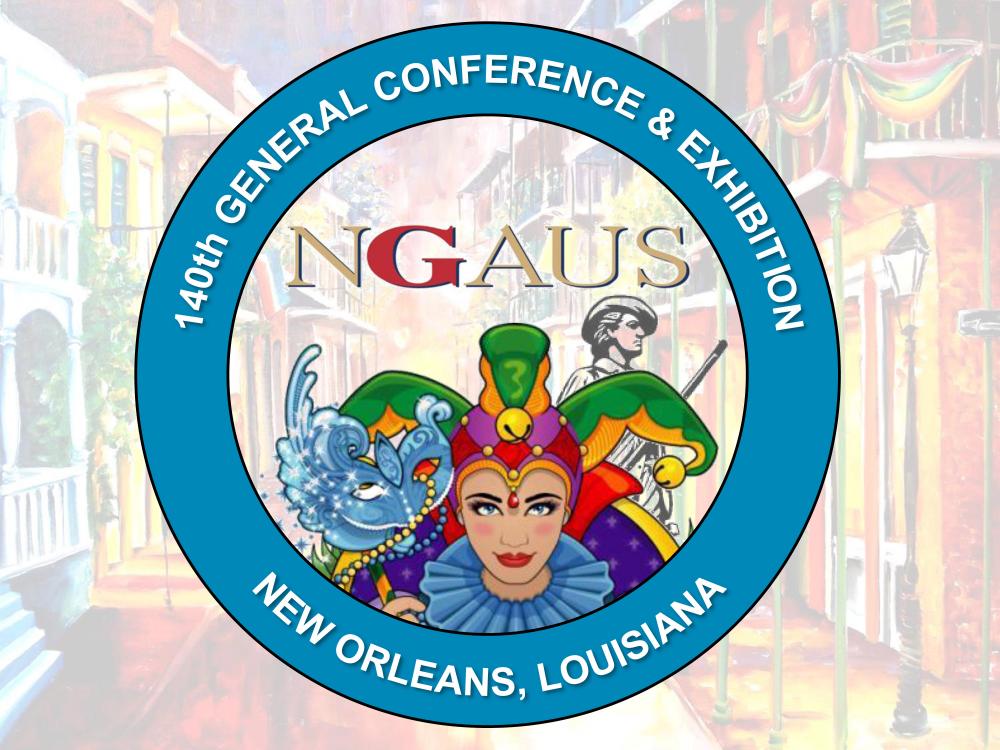 This Year's Events
Serving, Separated, Retired, and Spouses of Tennessee National Guard Members, are welcome to join us in the Pelican State for fellowship, food and fun! The Conference main event will be held in the Ernest N. Morial Convention Center. Tennessee's residence is the Sheraton New Orleans, located steps away from the French Quarter, Bourbon Street, the River Walk, and the Port of New Orleans!
August 24th
NGAUS attendees can play like a pro at the English Turn Golf Club, Tennessee Caucus meets, and Company Grade Officers gather for dinner, drinks, and dancing at the Hard Rock Cafe, New Orleans.
August 25th
Stretch your legs in the Fun Run along the New Orleans River Walk, "Brunch-In" at the Exhibit Hall and visit the awesome Corporate Members (exhibits open though out the day), strengthen your leadership capabilities in the First Officer Professional Development (OPD) seminar, or attend your Area III Caucus and cast your vote when not attending the First Business Session. The Governor's Reception is a great time to mingle and nosh at Mardi Gras World! See where the Mardi Gras floats are built, try on costumes, meet the artists, and enjoy their famous King Cake!
August 26th
Second OPD seminar, Second Business Session, and Caucuses continue while Spouses enjoy a special luncheon event at the New Orleans School of Cooking! Separated/Retired Guard will gather for their Caucus and Luncheon while Warrant Officers also convene for a combined Caucus and Luncheon. Corporate Exhibits will be open throughout the day. Committee and Task Force meetings fill the rest of the day, and the evening full of festivities kicks off with a Combined SEC Hospitality night "Masquerade Club" at Harrah's Casino.
August 27th
Third and Final OPD and Business Sessions will continue during the day, and Corporate Exhibitors will open throughout the day. Army and Air Guard will attend separate sessions to address Branch specific issues. The evening and Conference concludes with the annual States' Dinner "Mardi Gras Ball" at the Convention Center (Mardi Gras Attire, please! See the "What to Wear" Slide Show below).
Why Should I Go?
The National Conference is held annually in a different city that offers great services and amenities for Guard Members and their families. During the Conference, National Military and Political Figures speak to the current state of the Guard, address issues facing the Force, and call for Member action to create better informed and involved Guard Members. Professional Development Sessions and Business Meetings provide opportunity for growth as a Guard Leader. NGAUS also sponsors special events like Golf Tournaments, Mixers, and Luncheons to facilitate introductions and reunions with Guard Members and their Spouses from all over the country. During downtime, visit local hangouts and photograph famous landmarks in the city.
What To Wear
NG Mag 140th Feature
140th NGAUS Preview
Plan to Attend Future NGAUS Conferences!
141st General Conference
August 30-September 2, 2019 in Denver, Colorado
142nd General Conference
August 28-30, 2020 in Boston, Massachusetts
143rd General Conference
September 9-12, 2021 in Charlotte, North Carolina